Shipping Policy
Orders for in-stock items are processed within 48 hours of receipt and shipped within 1 to 3 business days thereafter. We do not ship on Saturdays, Sundays, or Holidays. Any orders placed on Saturday or Sunday will be processed the next business day.
Shipments will be shipped via UPS or Fedex. All packages that we ship are insured for the purchase price.We charge $9.75 flat shipping fee for each order.

Shipping Delays/Out of Stock Items
We always strive for customer satisfaction. However, some shipping delays are beyond our control such as weather and delivery errors. In order to ensure your order arrives promptly please review all information submitted before processing orders. The customer is subsequently responsible for shipping and handling charges in order to reship their package.
Occasionally, an item will be out of stock. Out of stock orders will be held "open" until item is restocked and will be shipped immediately upon arrival. You will be notified immediately via email when your item(s) are on backorder. We will give you the choice of waiting for the item(s) to come in or offer you a full refund.
Cancellations
Cancellations must be made within 3 hours after the order is placed. Please contact a customer service representative in order to cancel your order. You may cancel your order and obtain a full refund if order has not been shipped and/or is not awaiting shipment.
Please allow 2 to 3 business days for your account to be successfully refunded in full. You will be notified via email with a confirmation once refund has been issued.
Returns
We want all of our customers to be happy with their items. We suggest to customers to review our descriptions on the product page of every item. In order to do a return, the item must meet the return eligibility requirements, which are:

1. Received wrong item (ALL packages are triple checked before leaving the store)
2. Item was damaged during shipment (All packages are insured for the purchased price)
3. Item was defective (must be returned within 10 days, must email for a return authorization number or call within 3 days of stamped delivery)

ALL returns must have a return authorization number. To get that number, please call or email us to request a return. Any packages returning without a RA number will be refused. It is imperative to receive the RA number prior to returning an item. Make sure to include your order and full name and address when requesting the RA.

Shipping costs to you will not be refunded, unless it was our error. Returned items must be 100% complete, in new and unused/unwashed condition, in original unopened packages, contain all original boxes and packing materials. There also will be an applicable 25% restocking fee, unless the item was defective or you were sent a wrong item.

If guidelines are met, item must be returned within 10 days of stamped delivery. Item must be packaged correctly and shipped in the same manner as it was shipped to you. Contact us for the RMA number. There are no returns or refunds for:

1. Personal taste - "do not like the color", etc...
2. If the item has been used (we cannot take back a used item - this means items that have been broken from shrink wrap, bubble wrap or original packaging).
3. If the item comes back from a smoking home
4. If a buyer just needs money back
5. If Shipping and/or Tracking number has been issued.
6. If Package is due for delivery on en route to destination and not declared "Missing" or "Lost" by the shipping company and / or Shipper.
8. If the item has been delivered and signed for, unless there are defects with the clothing and/or items.

Restocking fee for returns is 25%. Restocking fees are applied to a package if the customer has a backordered item and has not allowed the proper ship time (7-10 days after initial ship time or other amount of time if notified), or if the customer returns an item without an RA number, or with an RA number but the item did not meet the return eligibility requirements.

We will not process an exchange before we have received the original item back in stock.
Refusal of Package

This is the same as an unauthorized return. If you refuse an order you will meet with a 25% restock fee plus shipping charges.
Incorrect Shipping Address Provided
SuperGiftPlace charges a 25% restocking fee for orders returned to us or re-routed due to incorrect addresses provided by customers.
Damage Policy
All of our items pass a rigorous inspection before shipment to insure that they are completely functional and free of any damage. Therefore any damage to the item has occurred during the shipping process. If you receive a damaged item, you must contact us within 3 days of receiving it so we can file a damage report with the shipping company and make arrangements to refund or replace your damaged item. If your item arrives damaged, you must keep all shipping and packing materials until further notice.
Please find below the transit time information from all our manufacturers' warehouses to the final destination.

From the day the order is placed with us, please add 3 to 5 business days to the transit times shown below to estimate the approximate date when you will receive your purchased items. This additional time is our providers' pre-determined order processing time frame which starts at the time they receive our order, package it and request a pick up from the delivery carrier.

NOTE: Sorry but we cannot expedite the processing time. For faster shipping, please contact us at support@supergiftplace.com and upgrade to Express Shipping.
The chart below specifies the estimated transit time frames for all the items shipped from the warehouses in the State of Georgia using the Standard Ground Shipping method.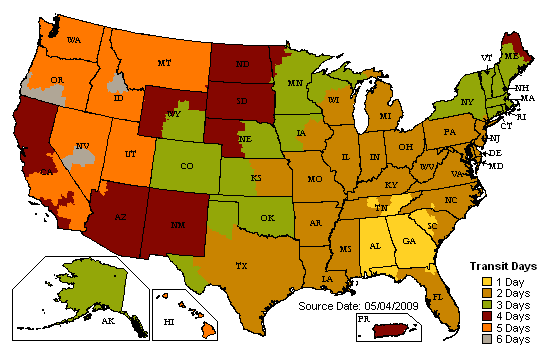 The chart below specifies the estimated transit time frames for all the items shipped from the warehouses in the State of Canada using the Standard Ground Shipping method.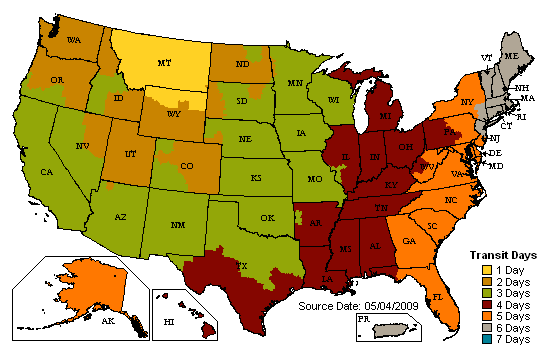 The chart below specifies the estimated transit time frames for all the items shipped from the warehouses in the State of New York using the Standard Ground Shipping method.